CCI Motorsports 1957 Buick Pro Modified Specs Page
Inside The CCI Motorsports 57 Buick Pro Mod


Thanks to our many friends, team and sponsors, CCI Motorsports can bring you a look inside our 1957 Buick Pro Mod. The Hemi Engine Details, Blower Specs from DMPE "Darren Mayer Performance Engineering", The Tim McAmis Chassis and Suspension information that makes our Radical Pro Mod run consistently at events and series throughout the season so please feel free to View Our Racing News For Updates.

Page on down, take a close look and "Feel The Full Throttle Power" of Outlaw Pro Mod Racing as we bring you the build sheet, Performance to date, Safety features and More.

Photos Courtesy of ccimotorsports.com and GoneDragRacing.com






















The Buick Pro Mod Owners:


Frank and Diana Patille, CCI Motorsports.com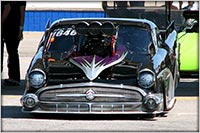 CCI Motorsports 1957 Buick Pro Modified Body



The Body:

1957 Carbon Fiber Buick 2 Door "Special" Clone, custom made and modified areodynamics for Pro Modified Racing by Hal Whipple / Form Of Expressions



Paint Scheme:

A deep black upper, and rich metallic silver lower two tone with hints of lime green pinstriping around candy purple inserts offset with detailed airbrushing of the original chrome enhancements of Buicks from that classic era.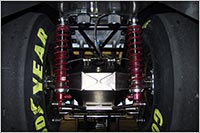 The Tim McAmis Chassis



Chassis Details:

Custom built Tim McAmis Chrome Moly Pro Modified Chassis, Certified to 25.1E "7.49 Seconds and Quicker; 2,750 lbs. Maximum" 115 Inch wheelbase



Suspension:

Chrome-Moly Handmade Full Floater, Strange Engineering Axles, Spool Center Section, Single Wheelie Bar, Strange Lightweight Billet Struts, Strange Lightweight Billet Calipers, Vented Steel Rotors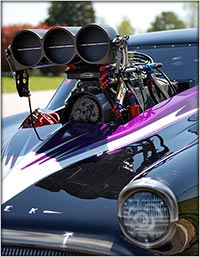 The Blown Hemi And Transmission

Engine And Transmission Details:
Engine Type
BAE Billet Aluminum 526 cubic inch Chrysler Hemi, built by Frank Patille, BAE Billet Aluminum Heads with Titanium Valves, 5140 Billet Steel Crankshaft.
Power Adder And Fuel
Darren Mayer Performance Engineering M5 Supercharger, Carbon Fiber Fuel Injector Hat, Acceleration / Waterman 12 Gallons a Minute Fuel System, Straight Methanol or Alcohol exiting through Zoomie Headers.
Ignition
MSD 44 Pro Magneto, MSD Wires, On-Board Racepac Datalogger.
Approximate Power
Approximately 2,400 earth twisting horses, 1,450 pound feet of "plant you in your seat" neck snapping torque @ 9,800 Screaming RPM.
Transmission
Lenco 3-Speed, Titanium Clutch Can.
Performance To Date
6.15 seconds @ 228 MPH and Getting Faster With Each Race, Look Out !!
Hooking Up The Buick And Safety:
Wheels And Tires
Weld Black anodized Magnums Spindle Mount Front Forged Aluminum, Weld Beadlocked and Black Anodized Magnums Rears Forged Aluminum, Hoosier Slicks, Hoosier Fronts


CCI Motorsports Safety
Impact Fireproof Suit, Simpson Helmet, Simpson Helmet, Hybrid Head and Neck Restraint System, Simpson 5-Point Harness, Dual Simpson Fireproof Parachutes, 20 Lbs On-Board Fire Extinguishers

View Our Site Map Here