CCI Motorsports Sponsors Index, Please Visit Them

Take Stock In CCI Motorsports, Become A Sponsor And Join The Team





Drag racing is a unique motorsport that can deliver to advertisers an upscale audience with above-average discretionary income.

Companies establishing a foothold in drag racing can influence the buying habits of the much sought-after 18-35 year old males, who often stay with the sport throughout their entire lives.

Equally as important, the number of women involved with drag racing is increasing more quickly than ever.

CCI Motorports can give you the advantage with our new 1957 Buick Pro Mod that makes regular appearances and is quickly turning into a crowd and fan favorite as well as a competitive machine to show you and your sponsorship in its best light. Our team is never unprepared in full race outfitting of team members and crew, our hauler, the immaculate car and our pit area with easy access to be able to speak with our fans and interested parties about our team and you as a sponsoring business, or personal sponsor to bring the best day we can for our sponsors already onboard and those coming along with us in the future.

Drag racing spectators are loyal to companies who support the sport; 85% of racing fans say they are more likely to choose a sponsor's products or services over competitive brands. And unlike most other Motorsports, drag racing has experienced a 53% overall growth in attendance over the past ten years, and continues to grow despite a weakened economy.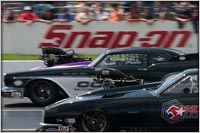 Despite the compelling statistics and demographics, many companies have not yet realized the possibilities of having a presence at Motorsports events and certainly the now exploding venue of Outlaw Pro Modified Racing. Unlike some of the other door slammer or full bodied race cars, we are allowed much area on our vehicle's to promote our sponsors as some do not allow this option of sponsorship on bodies of cars, Our Buick Pro Modified has plenty of room and we would enjoy making our teams car work for you. A Full or partial sponsorship of a professionally-operated drag race team can be used effectively in the marketing strategy of a wide variety of companies, both large and small.

CCI Motorsports may be able to provide increased exposure of your company's products or services to potential consumers unattainable through conventional advertising. In addition to highly visible placement on race cars, transporters and race event promotional media, we're building a well-trafficked web presence.

We can offer a great deal of flexibility in the structure and breadth of sponsorship packaging. CCI Motorsports invites you to contact us soon to explore how we might work together to expand your customer base and enhance your company's bottom line.

Contact CCI Motorsports.com For Our Sponsorship Proposal Packages

Sincerely Frank and Diana Patille, CCI Motorsports 1957 Supercharged Buick Pro Modified

Join Our Growing Team Of Sponsors
Our Recent Index Listing Of CCIMotorsports Sponsors And Our Thanks


DMPE Darren Mayer Performance Engineering



Darren Mayer Performance Engineering, Your Supercharger and Performance Racing Specialist.

DMPE, Please Visit Them


The Northeast Outlaw Pro Mod Association



The Northeast Outlaw Pro Mods features a wide variety of body styles and engines configuration making for some of the quickest and fastest Door Slammers in the country.

The Northeast Outlaw Pro Mod Association, Please Visit Them





Gil Davis Racing Engines



Gil Davis Racing Engines






CCI Constructors, Inc.



CCI Constructors, Inc, located in Wilmington, DE. CCI Constructor's line of business is concrete and sitework. They can also provide carpentry work.

CCI Constructors, Inc. Please Visit Them



Richard's Automotive



Richard's Automotive





CCI Motorsports.com Pro Modified Supercharged 1957 Buick Special



Welcome To CCI Motorsports, Home Of The Baddest Blown Buick In The Country. The Brutal Black and Silver Alcohol gulping menace to the quarter mile asphalt. View Our Website !!

View All Our Racing News And Join Us In Sponsorship And Follow The Team's Accomplishments



View Our Site Map Here