CCI Motorsports Archived Racing News

Past Racing News And Results Archives Of ccimotorsports.com








The Black Cat Gets Lucky




CCI Motorsports In The IHRA Winners Circle, New England Dragway


Photos By CCI Motorsports.com, Added Photos By Fastdoorslammers.com
Diana Patille, Press Author.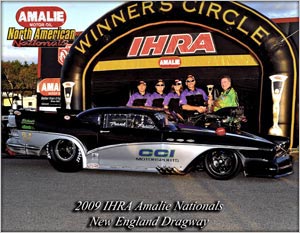 Our trip to New Hampshire began Thursday evening looking forward to taking the big, bad Buick out to let it breathe after our Super Chevy Event you last heard from us about. After loading up the Black Cat and packing enough food to feed a small army, we set out for the seven plus hour drive to Epping, NH, for the IHRA / Northeast Outlaw Pro Mod Association event scheduled that weekend.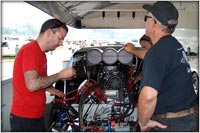 Jon Salemi of DMPE "Darren Mayer Performance" joined us at the track this weekend with the main crew as our team engine tuner of the alcohol gulping hemi. Richard Dixon, sponsor and good friend, offered to help us out over the course of the weekend as we were one crew member short "feel better soon, Ronnie!!" Richard's full time race team "Undertaking Racing" wasn't racing this weekend with their Pro Modified Camaro.


Friday afternoon we made our first and only time shot with the CCI Motorsports 57 Buick running a solid 0.996 60 foot time, but lifting shortly after spinning the tires. Unfortunately, that was the only run the weather gods would allow us and all the others to make.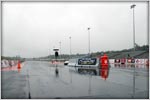 It poured down rain most of the day on Saturday and racers had to find other ways of entertaining themselves.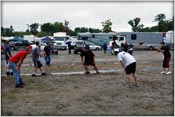 Some of us read, some of us napped, and some of us played football in the mud! It looked like a beer commercial as various team members came together for a friendly game of touch football.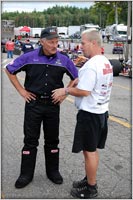 Much of our off time during the rains, our crew and Frank Patille had time to talk with the heavy hitters of the sport, like Sonny Leonard, Derrick Townes, Jim Barker, Jeff Rodgers, "Krazy Ed" Foley and more. Even the infamous John Mazzarano made his rounds like the association president does as you would expect, John is surely a character and way too much fun to not have him visit your pit area.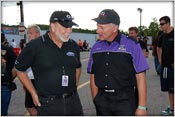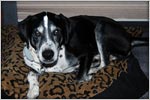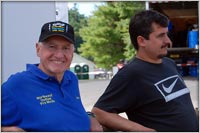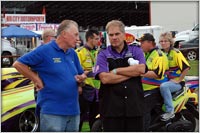 Sunday in New Hampshire; the sun finally peeked out and temperatures warmed from the miserable day prior as the track staff at New England Dragway were able to begin prepping the quarter mile for what would become a wild day of IHRA Pro Modified racing.

Always filled with all the best and most colorful racers in the country; the Pro Modified racing circuit is just a blast to fans of huge power and cool machines.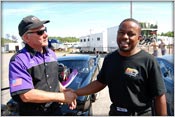 Touching off round one the CCI Motorsports team found themselves pairing up with Jeff Rodgers in "The Executioner". Jeff's 6.677 @ 210 wasn't quite enough for CCI's 6.27 @ 225 mph pass. Next up moving into the quarter finals; Frank faced off with Derrick Townes whose 6.41 @ 223 mph strike couldn't match the Black Cat's 6.19 @ 228 sweet shot at the 1320 feet bettering our last round numbers.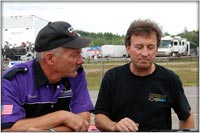 We enjoyed a bye run in the semi final round, coasting out on a 6.30 @ 226 unopposed pass. Before we knew it, we were in the finals with Jim Barker of Barker Racing and his Awesome Supercharged Monte Carlo; an exciting first for CCI Motorsports! Racing against another DMPE tuned racing machine.

Frank blasted Jim Barker with a 6.17 @ 228 mph shot and our lowest ET of the weekend to Barker's 6.30 @ 231 big mph hit which took our team right into the winners circle for our season highlight so far with this machine and a sweet victory we always knew we had coming soon to end an exciting weekend of racing with the IHRA and Northeast Outlaw Pro Mod Association.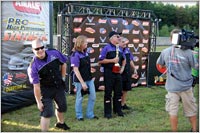 Final ceremonies included an interview for the SPEED channel with Frank Patille and members of the team enjoying the limelight, a trip into the Winner's Circle for our photograph and a few fans' autographs "thanks guys for supporting us - we love you!" were signed.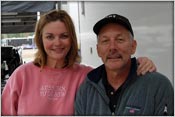 Team CCI Motorsports hit the interstate bound for our PA home after an exhausting weekend.


Some Moments Captured By Diana Patille show the determination, character and resolve over the race weekend below.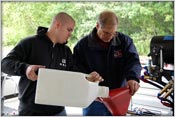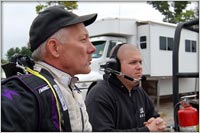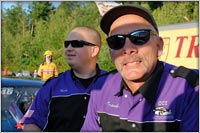 Next stop for us will be Atco, NJ this coming Saturday, 9/19/09 and The IHRA President's Cup at Maryland International Raceway 9/25/09 through 9/27/09. Stop in and say hello and follow the bad blown Buick more with Team CCI Motorsports.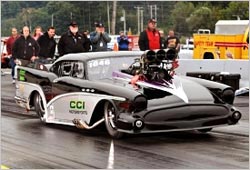 Fastdoorslammers.com Reported:

With both teams going into Sunday without any qualifying attempts at the track it really was a crapshoot on the tune up side of things. Ironically Jon Salemi was tuning both cars under the DMPE banner for the weekend. He stated, "It's really great to be working with two quality teams. They both have DMPE Superchargers and Fuel Systems.

The quality of their racing operations is top notch. I did my best to read the racetrack with each car and gave it my best shot. Fortunately they both went down in the first round to establish a baseline for each team."

Twelve cars showed from the NEOPMA group so they ran on a sixteen car ladder.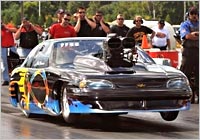 Both Barker and Patille were fortunate to get bye runs during eliminations. Barker's being in the second round and Patille's in the semis for a free trip to the finals.

Patille said, "We just kept racing smart all day. Jon Salemi kept us grounded and just picked away at the tune up.

I did my job on the tree when I needed to and we kept getting a bit better each round". Read More Here...

ProModZone.com Authors Also Reported: IHRA and New England Dragway had their biggest Sunday crowd in years and produced some of the best racing of the year as fans filled the facility to near capacity, and to watch great racing all day, and witness Frank Patille defeat Jim Barker to win the highly popular Northeast Outlaw Pro Mod Association class. Read More Here....

View Our Recent Racing News Here:








CCI Motorsports At Super Chevy Maple Grove 2009


Photos By CCI Motorsports.com, Added Photos By GoneDragRacing.com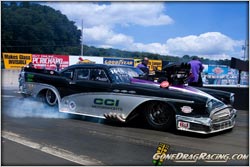 Adding to the field of Nitro Coupes At Super Chevy Maple Grove, CCI Motorsports entered into the fray with the Bad, Blown 57 Buick Special Pro Modified; not so distant as you may think with other cars of different body styles including the Willys Coupe from Mohegan Sun.

Some spectators without their binoculars from the nosebleed sections of the stands may have at first been thinking it was a 57 Chevy. Closer looks would have Chevy fanatics scratching their heads at the sight of the distinctive vents, rounded moldings and of course the meticulous grille airbrushing that is far from the 57 Chevy Model Pro Mod body.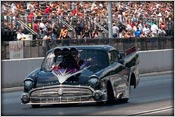 This was the second year in a row at Super Chevy and the Grove where team CCI Motorsports and tuning this car on this track would be as Frank Patille states "Tricky".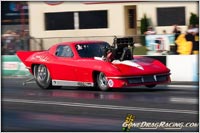 CCI Motorsports was challenged with figuring out the right tune up for conditions, and had to settle for a first round elimination on Sunday against Ken "The Kid" Walsh who scored big in rounds with number one qualifier 3.963 @ 189.82, Low ET and top speed with the same numbers as you see previously. Without a doubt, CCI Motorsports had the power but settling this car down on the Groves surface would have to be in a word "Challenging" for the most part. A great opportunity to see this car in full view and under power in a large series like the Super Chevy Show only comes once a year to the Patille's who live not too far from this area track and made the trip to show off the sponsorship, team effort and quality of this car to the race and car show fans that come to this event in the hills of Pennsylvania.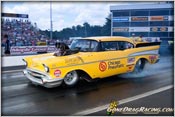 The other big classic of the show, Doug Winters and his 57 Chevy of Winters Racing took top honors of winning the event and moving up in points getting closer to the "Kid" Ken Walsh who sits on top with180 points and the number one standing in the Super Chevy Events.

For The next race, reporter, bottle washer, cook and information captain "Diana Patille" will be away from Team CCI Motorsports when they travel to Maryland International Raceway August 15th for yet another event. As you can see by this team effort, it will be in good hands of this crew pictured below in more shots of Super Chevy and Team CCI Motorsports participation in racing events.







Visit CCI Motorsports Personal Race Gallery Here
GoneDragRacing.com's Giant Super Chevy Show Gallery, Click Here
View Our Recent Racing News Here:






Summer Motorsports Spectacular at E Town, The Pro Mod Invitational Session


Photos By GoneDragRacing.com, Video By Arnie Cohen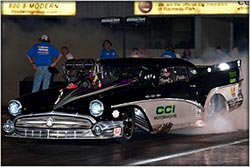 Many thanks to all of the fans and supporters who came out in abundance last night to watch what was truly a Summer Motorsports Spectacular at E Town! CCI Motorsports was thrilled to again be a part of this giant exhibition with the Buick Pro Mod in front of thousands of spectators, our thanks to our sponsors who keep us going strong and able to enjoy running this many shows.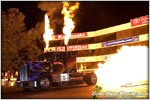 Race enthusiasts got to watch the always exciting 300+ MPH jet cars, rocking, flaming and fire breathing jet trucks, the Cool "Skool" Bus, Benny the Bomb (who can forget Benny?), monster trucks, funny cars (I enjoyed meeting you, Frank Manzo), top fuel Harleys and of course, the Pro Mods with our invitation back to put on a show for the spectators.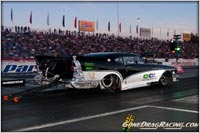 For CCI, these exhibition runs gave us a little more seat time in the '57 Buick Special which is comfortably coming around. As the sun set and evening approached, the air improved and there was no doubt ETs would continue to quicken.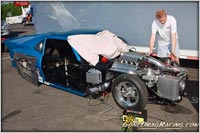 For our second pass, we were paired with Andy Jensen and his turbo charged Camaro. We cranked out a 6.20 @ 227 pass while Andy Jensen "Jensen Engine Technologies" whizzed along with a 5.94 @ 237 lightning fast surge and a pass heard around the globe with Frank Patille in the lane next to him, Frank had the best seat in the house for Andy Jensen's five second pass with a single turbo small block. Jensen now joins a very elite club. Nice run, Andy!

Jensen may have stolen the show but as teams with a good standing amongst each other it's always a sensation to see a friend and racing compadre' reach a feat of this magnitude.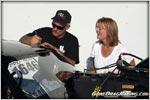 Our thanks to Seth Cohen from GoneDragRacing.com and the man with the videos, Arnie Cohen for capturing Andy Jensen's 5 second pass in the lane next to us.


CCI Motorsports is preparing for the Super Chevy Show at Maple Grove scheduled for July 17th where we'll take flight with the Wild Nitro Coupes. Hope to see you there!


GoneDragRacing.com's Huge Night Of Thrills Gallery, Click Here
View Our Recent Racing News Here:









Saturday Eliminations At Maple Grove Northeast Outlaw Pro Modified Association


Photos By CCI Motorsports.com, Added Photos By GoneDragRacing.com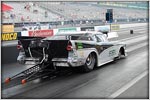 Saturday's single time shot found us shaking the tires at the mid track on the 1st to 2nd gear shift and lifting. The first round of qualifications was more solid nailing a 6.23 @ 229 run, which put us at 2nd qualifier. We still had to run the rained out final from MIR against Tommy Gray. This pairing was probably one of the most exciting races of the blower class of the weekend. The Black Cat was slightly quicker off the line than the Undertaker Camaro, and with 60ft and 330 times just hundredths of seconds apart.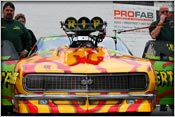 Gray's mean green racing machine drove around the '57 Buick at the top end, posting a 6.07 @ 238 run to our best of the year yet 6.17 @ 229 run to grab the win light. It was great racing for the fans and for both teams.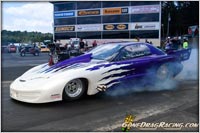 CCI Motorsports went on to the first round of eliminations for the day's event, a bit too aggressive through low gear.

We got out of the groove, pulled left and crossed the center line forcing the DQ. Fortunately the Buick cleared McCurdy's Firebird.

Our Next Stop Is The Night Of Thrills Pro Mod Invitational At E-Town again !!




Friday Test and Tune Session At Maple Grove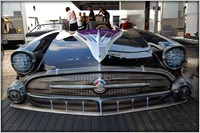 Anxious to get back on the track after all of the E-Town excitement, we were ready to resume the job at hand; getting this Buick to run straight down the track fast and quick! Jon Salemi of DMPE "Darren Mayer Performance Engineering" joined us this weekend in an effort to get this car dialed in. With the imminent threat of rain, in the hot, sticky afternoon, we made two hits on the Buick. The first shot we ran a 6.52 @ 221 and realized a problem with our brakes; "there weren't any" !!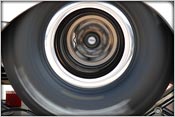 We pulled the 37" Hoosier racing slicks and found a pint of brake fluid puddled in each wheel. The fittings on the calipers had loosened due to heat and vibration. Team CCI Motorsports tightened everything up, replaced the fluid and went back for a second pass. We experienced the same problem, which resulted in a John Force like 1000ft burnout (Frankie, the fans loved it!)

We ended up making a 1/8th mile pass hooking up on the line with a .998 60 foot time, shutting off mid track with a 4.05 @ 176 run. After this run though, we replaced the new carbon fiber brakes with the old steel brakes (thank you, Richard Dixon, for your help).

Shortly after, Mother Nature let loose herself raining down a torrential deluge onto the Maple Grove Raceway Facilities track surface; we never got another time shot in.

View Our Recent Racing News Here:



Getting Ready for the "Grove" With The Northeast Outlaw Pro Modified Association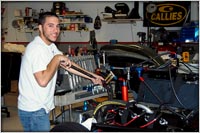 Crew CCI Motorsports works feverishly to freshen up the Buick for The Northeast Outlaw Pro Modified Association at Maple Grove this coming weekend. New rings and a piston package will tighten up the 526 c.i. BAE Hemi. A new center section is also in store for this fast door slammer. We'll check out the new gear at Friday's test and tune session before Saturday's races.













CCI Motorsports At NHRA Super nationals Raceway Park June 2009




Photos By CCI Motorsports, Diana Patille Notes And Recap:





Super nationals at E-Town Sunday, Racing With The Big Dogs Of NHRA


Photos By CCI Motorsports.com, Added Photos By GoneDragRacing.com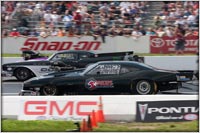 Sunday morning with the NHRA after racers introductions and announcements with the usual fanfare and festivities, the CCI Motorsports Buick Pro Mod went into its first round of NHRA competition against Joe Baker's Matco Tools Racing 68 Camaro.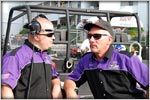 As quick as we staged the thumping Hemi powered Pro Mod, "Bang" that pesky red light reared its ugly head and ended our day in the "Full Throttle" Racing Series at E-Town.

Our much improved 6.28 @ 227 really didn't matter against the outstanding blast down the track by Joe Baker with a superb 6.02 @ 242.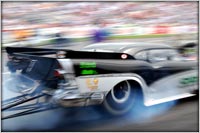 Team CCI Motorsports will be now heading up to Maple Grove Raceway for another session of The Northeast Outlaw Pro Mod Association's series so look for us at the Grove !!

View Our NHRA Super nationals Gallery Here:
Visit CCI Motorsports Sponsors Index Here:
View Our Recent Racing News Here:





Super nationals at E-Town Saturday, Soaking The Race, But Not Our Spirits


Photos By CCI Motorsports.com, Added Photos By GoneDragRacing.com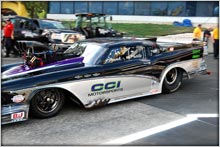 Despite the cleansing of the track by Friday night rain storms, it was a good session of qualifying for the Team CCI Motorsports 57 Buick Pro Mod in the NHRA Full Throttle Series of this event.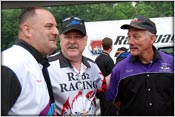 We made our second qualifying attempt along side of race promoter extreme Dave Hance of the Shakedown at E-Town fame. Fans saw total nostalgia as two "old battle axes" were trying to make the cut against the sleek new bodies.

These big 1957 era classics are far from dead weight as we laid a 6.42 @ 224 onto the qualifying sheet dropping some MPH and ET telling us our two step was still not working properly and not advancing in the ladder like we had planned.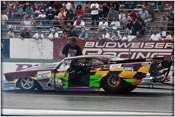 Again a trip back to our pits as the rest of the contenders in the classes made their runs, we looked for some more adjustments but all was for not as Rainman returned; this time for good on E Town and the night was over for another attempt.

The CCI Motorsports Buick was forced to sit out the night as we perused the pits with teams and friends at NHRA while the rains dampened the night's festivities.





Super nationals at E-Town Friday, The Buick Is Lit Up !!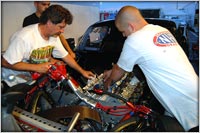 After getting our credentials in order for the race, we geared up for our first qualifying run. Track conditions were good, and we were hoping to improve on the 6.21 @ 232 we posted two weeks earlier on this same E-Town surface at the Night of Thrills in the Pro Modified Exhibition.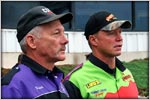 Paired up with The "Undertaker" Tommy Gray, the Buick slugged out a 6.41 @ 226 which was well off our pace to go rounds with the behemoths of the sport. Back to the pits for some thrashing and adjustments to the alky gulping Hemi, we were looking for a bit more power. Able hands were with us in both crew and friends to bring this baby alive for some more rounds in front of thousands of NHRA "Full Throttle" Racing fans.



Super nationals at E-Town Thursday "Getting Prepared"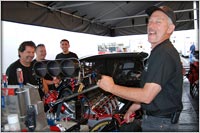 CCI Motorsports made our first ever appearance at a national event this past weekend at Englishtown competing in the NHRA Super nationals, thanks to our new sponsor Bob at "R.C. Fabricators" our trip was going to be allot easier next to some of the baddest race cars on the planet.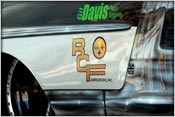 After our great time at E Town with the night of thrills and being more successful with the power we were making, the NHRA Super nationals was just about as good as it could get to follow up our mid season in the heat with the Pro's of Drag Racing.

Top Fuel to Sportsman, it was a huge event we didn't want to miss. We rolled out the 57 Buick Pro Mod Thursday afternoon like most of the other teams, and got right to work setting up the pits for our fans and sponsors. Kip Dupuis, who originally owned our 57 McAmis Buick Pro Mod joined our crew after a cross country flight in from California.

View Our NHRA Super nationals Gallery Here:

View Our Recent Racing News Here:



CCI Motorsports Sponsor Press Release, R.C. Fabricators On Board !!

R.C. Fabricators To Sponsor Frank Patille's CCI Motorsports 57 Buick Pro Mod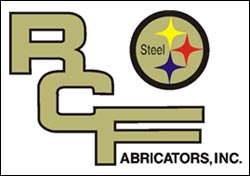 Frank Patille is proud to announce a sponsorship agreement with "R.C. Fabricators".

The company is a structural steel and miscellaneous metal fabrication and erection company based in Wilmington, DE. They do commercial steel and miscellaneous metals detailing, fabrication and erection. "We are excited to have them on board.

The 57' Buick has been running strong, with a semi final round win at the Northeast Outlaw Pro Mod Association's race at MIR, and a runner up finish at Maple Grove vs. Tommy Gray this past weekend in the rained out final makeup from the MIR race, a 6.235 giving Frank the number two qualifier spot at the "Rumble at the Grove" and with the support of R.C. Fabricators, it will take this team to a new level of competition" said team owner Frank Patille.



About R.C. Fabricators:



R.C.Fabricators Inc. is at the forefront of technology and innovations related to the steel and construction industries. Our efficiency and expertise allow us to be competitive in the current market without sacrificing dependability. We are active members of many local and national associations.

For more information about R.C. Fabricators Please Visit Them Here:

Visit CCI Motorsports Sponsors Index Here:








Raceway Parks Night Of Thrills May 2009


Photos Courtesy of GoneDragRacing.com and CCI Motorsports, Video By Arnie Cohen.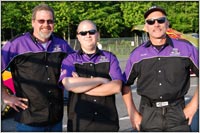 As interest for the Night of Thrills is never at a loss, The CCI Motorsports Buick was invited with other area Pro Mods to put on a spectacle of door slammer power for the fans that came to see the usual night of thrills antics of wheel standers, jet cars, and stunts.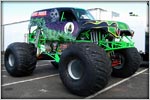 Packing the stands in our words would not do the night justice; this place was overloaded on a warm May late night out with the family for some quarter mile fun.

After reaching a final round at MIR against one of the best there is "Tommy Gray", we had some high hopes on this NHRA track that hosts the Super Nationals each year so we know the hook would be there to handle out blown Hemi Power even if it was a show based event invitation.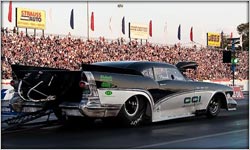 Who would have thought that our Big Bad Buick would drop a 6.21 @ 232 on the timing tower clocks for the race fans in the seats as it was our best run of the season and the quickest Pro Mod pass of the evening with Andy Jensen right beside us on this blast.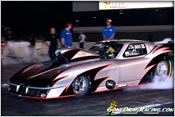 Even better, we had the chance to do it against friends and a full house of spectators under the lights at Raceway Park's awesome facility.



A great opportunity for the CCI Motorsports Sponsors to see our car in full swing at its best partly in thanks to the GoneDragRacing Photographer "Seth Cohen" for snapping awesome photos of our car under power and Arnie Cohen for the video of our runs.

Team CCI Motorsports is stoked about participating in the upcoming NHRA Super Nationals at this same track next month.

GoneDragRacing.com's Night Of Thrills Gallery Click Here:




View Our Recent Racing News Here:



The Northeast Outlaw Pro Mod Association At Maryland Intl. Raceway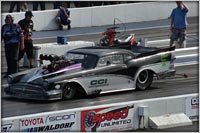 The Northeast Outlaw Pro Mod Association took us to Budds Creek, Maryland, for their second event of the season where we qualified 6th with a 6.31 @ 227 mph pass. The car continued to pick up throughout the day, running a season-best 6.24 @ 230 mph.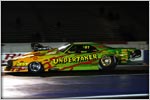 We found ourselves facing Tommy "the Undertaker" Gray with his blown 1968 Camaro in the final round, but the rains refused to hold out – causing us to call a draw for the night.

Stay tuned for the conclusion of this race at the Northeast Outlaw Pro Mod event scheduled for June 27th at Maple Grove Raceway.

View Our Recent Racing News Here:



Super Chevy Show At Virginia Motorsports Park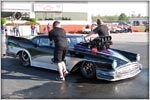 Competing in the first Super Chevy Show for CCI Motorsports, we unfortunately suffered a repeat performance last week's transmission trouble.

We logged off before eliminations and after a few phone calls and assistance from some of the experts, were able to pinpoint and solve the problem. Several UPS deliveries and a tranny job later, the old Buick was back together and ready for MIR. Go baby, go!

View Our Recent Racing News Here:



Northeast Outlaw Pro Mod Association At Virginia Motorsports Park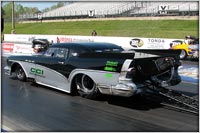 This was the Northeast Outlaw Pro Mod Association's inaugural event at Virginia Motorsports Park and our first time out this year with the 1957 Buick Special Outlaw Pro Mod.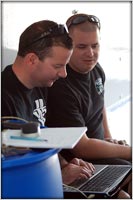 Outfitted with a new DMPE "Darren Mayer Performance Engineering" M5 Supercharger and fuel system and guided by the wizardry of Jon Salemi, this Black Cat wanted to run quick; hammering down an impressive 0.979 second 60 ft. time.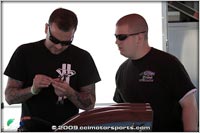 Track conditions were excellent with our thanks to the staff at Virginia Motorsports Park but a finicky transmission burned up the Lenco's clutches sending us packing for home early.



View The goDragRacing.org Gallery Photos Here:

View Our Virginia Motorsports Park Gallery Here:

View Our Recent Racing News Here: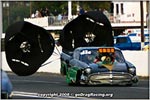 The CCIMotorsports Buick At The Shakedown at E Town


As Reported by goDragRacing.org, Video By Arnie Cohen.
As Seen In RPM Magazine and GoneDragRacing.com




Lend America Pro Modified Outlaw Blown Qualifying Summary:



Probably the hardest hitting door cars you will ever see is the Pro Blown class featuring the supercharged warriors of the sport and the incredible horsepower they can produce and control even with injecting nitrous and other wild fuels into them, only nitromethane has yet to be seen but surely it will show up one day.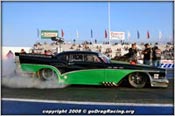 The screaming whine of screw blowers rocked the townships surrounding area with each pass in this class that included three turbocharged entries in the twenty seven cars running for the class.

The bump spot of 6.37 for the sixteen car field was set by PA native Kevin McCurdy and the top qualifier honors going to Scott Cannon with a blistering 5.73 @ 252, notables included that the top six cars were all in the five second zone.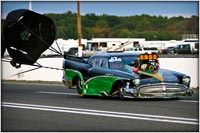 A more than scary moment of the race happened at well over 230MPH when the Rupture Street wear GTO blows out a tire and ping pongs off the wall three times coming to rest a mangled ball of chrome moly tubing, driver Scott Filkins walks away unharmed but the race loses a major competitor.



The Team of Stanley and Weiss pulled the chutes early to drop a 6.09 on the ladder and the MPH would show it had a five second pass in it also.

The turbocharged legend Rod Saboury dipped into the sixes in his "Street Car".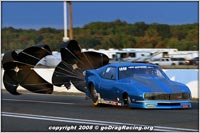 A local hopeful for a win in this class was Andy Jensen in the single turbo Camaro fresh and sparkling yet a cracked head would stop him from competing and dash the hairdryer hopefuls.

Fans of "one off" bodied race cars got a glimpse around the world of the 1957 Buick Pro Mod of CCI Motorsports and Frank Patille behind the wheel of this blown brute, it's unusual to see this older body style paired up with the sleek Corvettes, Camaro's and Daytona's while still keeping its identity in check.




Lend America Pro Modified Outlaw Blown Eliminations: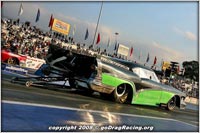 With $20,000 laying on the table for this class the cream of the door slammers would fight it out hard, Tim O'Hare broke Giving John Stanley a bye run, Steve King loses a tight one to Mike Janis of blower motor fame. Chip King fights off a major disaster as he is on two wheels across the centerline saving the Daytona but losing to Frank Patille in the CCI Motorsports 57 Buick Pro Mod who is moving up the rounds with the new entry into this class for the first time. Tommy Gray in the "Undertaker Camaro has problems and Tony Daprille advances easily with the early bodied Chevy Bel-air in blazing red.

John Hines in the all black Mustang hits the wall on his pass but is OK as John Russo screams to a 5.95 @ 245. Barney Squires takes the win over George Landis, Von Smith has his way with his opponent Billy Gibson and Scott Cannon takes away Kevin McCurdy's chance to advance into the next round.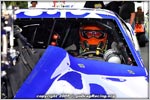 Tommy Daprille advances beating John Russo, Von Smith is a winner over Mike Janis, Frank Patille is inline to go another round taking over Barney Squires rights to another round appearance.

John Stanley in the Stanley and Weiss Racing Camaro is hurt and Scott Cannon gets a bye run into the semi finals.



Frank Patille 6.58 has his day ended when the Buick is outrun by the Al-Anabi Racing 57 Chevy 5.95 with Von Smith at the wheel.

Scott Cannon 5.77 @ 250 out powers Tommy Daprille's Bel-air 6.00 @ 235.




Lend America Pro Modified Outlaw Blown Final Session: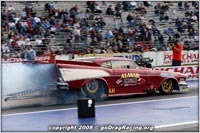 Von Smith Powers through a blazing burnout as does Scott Cannon.

Both are in the beams with anticipations from both teams rising with the RPM's, Cannon lets loose early drawing a red light.

Von Smith is crowned the champion of the 2008 Pro Blown Class.
Pro Blown Qualifying Video By Arnie Cohen
GoneDragRacings Shakedown Event Photo And Video Gallery
GoDragRacing Photography Event Gallery
The Shakedown at E Town Official Website

















View Our Recent Racing News Here:





Outlaws At Atco 2008, The CCI Motorsports Buick Is A Hit


As Reported by goDragRacing.org, Video By Arnie Cohen.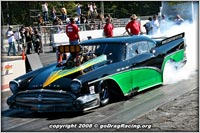 After running this event for the second year; Atco Raceway came to the top of the class opening up two full days of racing with both quarter mile and 1/8th mile racing scheduled for the weekend and the Buick Pro Mod of CCI Motorsports was in attendance.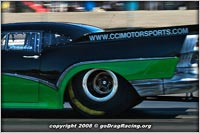 A Saturday rainout shortened the race weekend and the race; only running the 1/8th mile session. Team CCI Motorsports went strong into the ladder with a final lucky number seven spot tied up for them, laying down a solid 4.288 @ 173.14 in this pro ladder.

Frank Patille would have to face the number six qualifier in the first round with Vinny Demieri at the helm of the slick GTO nitrous entry.


Although it is a side note, Vinny Demieri was the first reigning champion of the inaugural Outlaws At Atco Race in 2006 and is one of the most fierce competitors today in the nitrous ranks against one of the strongest running nitrous cars in the country of Milt Decker who lost and burned the car to the ground after the pass. Luckily the downpour that the racers had seen looming in the sky dropped like there was no tomorrow and saved Decker's Corvette Pro Mod.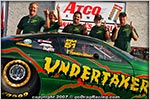 Pro Modified friend and well known around the scene as driver extrordinaire' and racing colleague Tommy Gray has also seen the winners circle at this race and was the defending 2007 champion in his "Undertaker" Supercharged GTO.

Frank Patille would get a small lead on the green with a .075 to Demieri's .088 pulling hard right next to the big Buick's fender and crossing the half track finish line with a winning 4.322 @ 170.95 to Patille's 4.366 @ 170.06.


An early round loss with some big dollars at stake but Team CCIMotorsports showed the crowd the unusual body style and was an immediate hit.

As rounds continued, Steve Cossis eventually would overpower Milt Decker in the final and take his first win at Atco in this series.







View Our Recent Racing News Here:

CCImotorsports Track Notes With Diana Patille, Blog News Of 2008, Team Based Results

OCTOBER 4TH-5TH ENGLISHTOWN, NJ. Shakedown At E Town 2008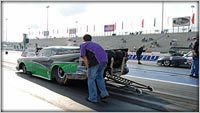 Persistence was our theme at the big Al-Anabi Shakedown at E Town event this weekend and it definitely paid off. After a 6.41, 212 MPH qualifying pass on Saturday, the CCI Motorsports Pro Mod Buick was "in the show" but on the bump at 16th.

The final attempt to better our position was stopped cold when the blower belt broke in the water box. Although we were edged out of 16th later in the evening, another qualifier became unable to race on Sunday. So back in we go!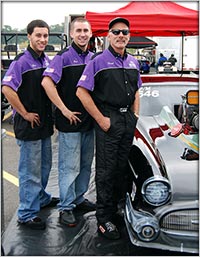 Unfortunately, we discovered a serious transmission problem that would need to be fixed in order to race on Sunday.

With members of the Jim Halsey, Tommy Gray and Tim O'Hare teams generously lending parts, tools and hands-on assistance, we were able to make the repairs and stay in the show. Our sincere thanks to all of them.

Another 6.41 in the round 1 was a full .5 second better than our competitor, and our ticket into round 2. Our 2nd round competitor red-lighted (we all need a little luck now and then) so on to the semi-finals! Round 3 was a real challenge, racing one of the well-financed Al-Anabi cars.

Our 6.60 on 7 cylinders just wasn't enough to match their 5 second blast. But recovering from a DNQ to make it into the semi's was still a pretty respectable weekend for the CCI Motorsports team!

Visit The Official Shakedown at E Town Website Here:



SEPTEMBER 7TH ATCO, NJ. Outlaws At Atco 2008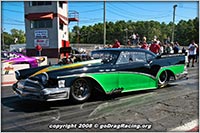 Although Hurricane Hanna washed out Saturday's 1/4 mile portion of the event, the CCI Motorsports Buick competed in the 1/8 mile race on Sunday.

We lost in the first round, though, with a 4.36, 170 MPH run – slowed considerably by a dead cylinder.
We now sit in 11th place in the Northeast Outlaw Pro Mod points standings, with two events remaining.

Courtesy Of Arnie Cohen And GoneDragRacing.com.



AUGUST 30TH. Cecil County Street Car Shootout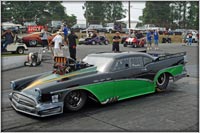 The CCI motorsports Buick Special returned to Cecil County for the Northeast Outlaw Pro Mod "Extreme" competition (which initially separates the blower & turbo from the nitrous & normally aspirated cars). After qualifying comfortably, we won the first round – due in no small part to Frank's perfect .000 reaction time! The second round was not as successful, shaking the tires and losing traction right off the starting line.

However, we still managed to move up a few places in the Pro Mod points standings.



AUGUST 3RD NUMEDIA, PA. Northeast Outlaw Pro Mods



Back to Numedia for the Northeast Outlaw Pro Mod race. Our 57 Buick Special qualified with a 7.0 at 200 MPH. Unfortunately the run destroyed a head gasket, cracked a piston and took a few other critical items with it! Lacking the parts and time to repair it in the pits, we headed home to the shop to set things right for the next event.



JULY 26TH NUMEDIA, PA. Foxwoods Top Sportsman



Our third Foxwoods Top Sportsman event of the season started out well for the CCI Motorsports Firebird. But after qualifying with a 7.22 at 194 MPH, mechanical gremlins ended our day even before the first round got underway. Despite the setback, our CCI team remains in the top 1/3 of Top Sportsman point standings at 19th among 58 competitors.



JULY 12TH ATCO, NJ. Northeast Outlaw Pro Mods




Our second outing with the Pro Mod Buick Special saw steady progress. CCI Motorsport made it's first full-track pass with the new car, and clocked our first six second ET.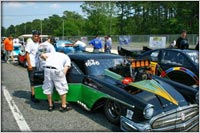 After qualifying for the Northeast Outlaw Pro Mod event, the Buick managed a first-round 6.99 despite "grazing" the 1,000 ft. timing clock. (Apologies to the Atco track crew!) Because Frank had to back off the throttle before the finish line, our competitor was able to drive around us for a victory.

Valuable lessons learned, though – and there's always the next race!





JULY 5TH CECIL COUNTY, MD. Cecil County Street Car Shootout



Although we hadn't planned it this way, today was the very first time we've been able to get our new Buick Pro Mod on the track! We never intended to try and shake the car down in the middle of live racing, but who can control the weather?

We definitely could have used more time than we had to make some of the fine adjustments we knew were needed. But we did uncover (and fix) a balky transmission and a few other gremlins – so we're better prepared for next week's Pro Mod event at Atco.

Let's Not Leave Out The Firebird Top Sportsman Ride



JUNE 1ST ENGLISHTOWN, NJ. Foxwoods Top Sportsman Event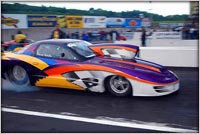 Another consistent performance for the CCIMotorsports Firebird, and another quarter final round appearance. While we weren't able to win the overall event, our round victories were enough to keep us in the top half of the Foxwoods Top Sportsman point standings.

The CCIMotorsports team is currently 23rd in a 58 car field. Now for the next few weeks we'll be focusing on preparing our new Buick Special Pro Mod car for it's first east coast appearance.




MAY 23RD-25TH MAPLE GROVE, PA



The Firebird Top Sportsman car was quick and solidly consistent all day. Almost "dead-on" runs of within .01 seconds of our 7.12 dial-ins, coupled with quick driver reaction times, allowed the CCIMotorsports Team to make it to the (quarter-final) fourth round before gremlins struck. The onboard data recorder indicated #8 cylinder was running 200 degrees hotter than normal. Further investigation revealed a bad lifter which unfortunately put an end to our racing weekend. But our three round wins were enough to push the CCI Firebird up to 19th position in NHRA's Division One "Foxwoods Top Sportsman" class. And of course, we've already started the repairs needed to compete again next week!



CCI Motorsports Retro Press And Media Promos.

SEPTEMBER, 2008 1320TV.com Interview By Camp Stanley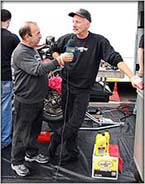 During the 6th Annual Shakedown at E Town, Susan Wade handed over the microphone to let the drivers speak to each other, Camp Stanley takes a pit chat with Frank Patille about the supercharged Buick competeing in the now famous northeastern event featuring both nitrous Pro Mods and Patille's class "Pro Blown".

1320tv.com has been a model of racer recognition in their web based interviews, race reporting and more.

A special honor was to have the original "Wild Man Of Drag Racing" holding court for the internet viewers in this race venue after CCImotorsports did so well in the rounds but fell to a broken transmission in the semi finals.




SEPTEMBER, 2008 Drag Illustrated Magazine




Atco Raceways results of the 3rd Annual Outlaws at Atco showed off our Buick Pro Mod in jut the right light by Van Abernathy's talented keyboard skills and diction searching the thesaurarus for extreme words to describe how he saw the CCI Motorsports Buick Pro Mod on it's 1/8th mile journeys. Though we lost to Vinny Demieri after a number seven qualifying spot in the first round; our first time to Atco in this competition was essentially a proving ground for this well built machine we now have in our hands to set some milestones for us personally, our team members and fans.

View The Complete Article In PDF Form Here.



AUGUST, 2008 Atco Raceway Promotional Flyer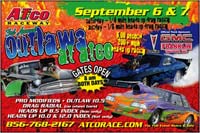 Print and Web Promotional advertisement from Atco Raceway for the upcoming Northeast Outlaw Pro Mod Association Series Race featuring the Big Bad CCI Motorports Buick Powering off the starting line.

This flyer was seen all over the world by way of many well known websites and forums along with Atco Raceways Mailing list of racing subscribers.



Diana Patille Narration and Authoring From Team ccimotorsports.com

View Our Racing News For Updates

Follow Our Site Map Navigation Here