CCI Motorsports 57 Buick Pro Mod T Shirts Sales Center

Hot New Shirts For The CCI Motorsports 57 Buick Pro Mod Fans Now Available !!








Due to the large request for Custom T-Shirts of the "CCI Motorsports 57 Buick Pro Mod"; the only one in existence and touring, we are obliging our fans by bringing them to you both on the internet and at the races featuring full color printing with our logo on the front in the left chest area and the brilliant image you see in full color covering the back in high quality silk screening.

This new sales page is here to make it easy to order online through e mail and through our schedule to meet us and purchase at the track at an advantage of no shipping or handling and you have it in your hands that second.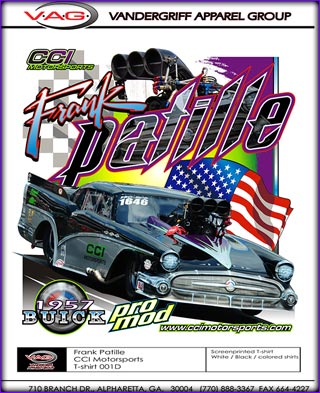 CCI Motorsports is proud to announce our new classically designed Pro Modified Tee-Shirts of "The Bad Black 57 Buick Pro Mod" for purchase to support our racing operation and make you look awesome by renowned artist and designer Greg Ozubko of www.GOSMotorsports.com.

Now available for purchase our team branded Tee-Shirts featuring the beautiful "1957 Buick Pro Mod" in three shirt colors (black, white and ash) sporting the shown design.

Adult Sizes: Medium Through 3XL, and Children's Youth Sizes Medium and Large.

Awesome CCI Motorsports Buick Pro Mod Shirts are $20.00, plus shipping and handling.

E-mail Us For Your Order CCI Motorsports T Shirt Sales purchase and details, also available at the track in our pits in most sizes and colors; It's an eye catcher and surely a conversational piece when in public.



Save on shipping and handling with a pit purchase at races we attend.

Thank You In Advance Team CCI Motorsports!

More About Our Pro Mod Tee Shirts: See Our Press Release On Our Home Page



Follow Our Site Map Navigation Here